Juvenile DUI Arrest Lawyer, WA
What does a Minor DUI mean?
RCW 46.61.503(1) Notwithstanding any other provision of this title, a person is guilty of driving or being in physical control of a motor vehicle after consuming alcohol or marijuana if the person operates or is in physical control of a motor vehicle within this state and the person:
(a) Is under the age of twenty-one; and
(b) Has, within two hours after operating or being in physical control of the motor vehicle, either: (i) An alcohol concentration of at least 0.02 but less than the concentration specified in RCW 46.61.502, as shown by analysis of the person's breath or blood made under RCW 46.61.506; or
 (ii) A THC concentration above 0.00 but less than the concentration specified in RCW 46.61.502, as shown by analysis of the person's blood made under RCW 46.61.506.
What happens to your drivers license after a Minor DUI arrest?
If you have been arrested for a Minor DUI then you will most likely face two separate legal actions.  The first legal action will be with the department of licensing where the accused will face a possible drivers license suspension.  The second legal action will be with the Court system.  It is of the utmost importance you contact Seattle DUI Lawyer, Matthew Leyba immediately to prepare the best defense possible.
As noted above if you were arrested for a Minor DUI then the Washington State Department of Licensing will attempt to suspend your driver's license.  The suspension can vary from 90 days for a first offense, and 1 year or until the age of 21 whichever is longer for a subsequent offense.
If you wish to challenge the proposed license suspension then you must file a hearing request form with DOL within 20 days of the date of your arrest.  The cost to file this notice is $375 and doesn't guarantee your license will not be suspended, it only gives you the opportunity to challenge the proposed license revocation.
Assuming you choose to send in the hearing request form, then the Department of Licensing will assign a hearing Examiner to your case, and assign a telephone hearing date when the actual hearing will commence.  DOL will consider four issues in deciding whether to suspend the drivers license: (1) whether there was a lawful basis to stop the driver; (2) whether there was enough evidence to arrest the driver; (3) whether the driver was properly advised of the implied consent warning; (4) lastly whether the breath test was over a 0.02 BrAC level.
At this hearing, you have the right to represent yourself, or you can have a Seattle DUI Lawyer represent you on your behalf.  Many DUI Lawyers, including Matthew Leyba, have a flat fee that covers both representation at the DOL hearing as well as the criminal hearing.
DUI Attorney Seattle
What happens if you get charged with a Minor DUI
The second legal action a driver will face will be through the criminal court.  The first hearing will be an arraignment.  This is where the Prosecutor will formally charge the driver with the crime of Minor DUI, and the Judge will impose conditions to be followed while the case is going.  If you have not spoken with a DUI Lawyer yet, it is imperative you have one appear with you at your arraignment.  If the Judge wants, they can impose bail, ignition interlock device conditions, SCRAM bracelets, or any other reasonable condition they see fit.  Seattle DUI Lawyer, Matthew Leyba has a high success rate of arguing against these conditions at your arraignment hearings.
At the next hearing the driver will have several options: (1) they can ask the Judge for more time to work on the case; (2) they can plead guilty to the Minor DUI charge; (3) they can enter any other plea deal that was negotiated; (4) they can set the case for trial.
A Minor DUI is a simple misdemeanor, meaning the maximum penalty faced is up to 90 days in jail, and a $1000 fine.  Currently, there is no mandatory minimum penalty like a regular DUI.  Additionally, there is not a drivers license suspension based on the conviction.  Although this is independent of any action the Department of Licensing may take based on the first legal action.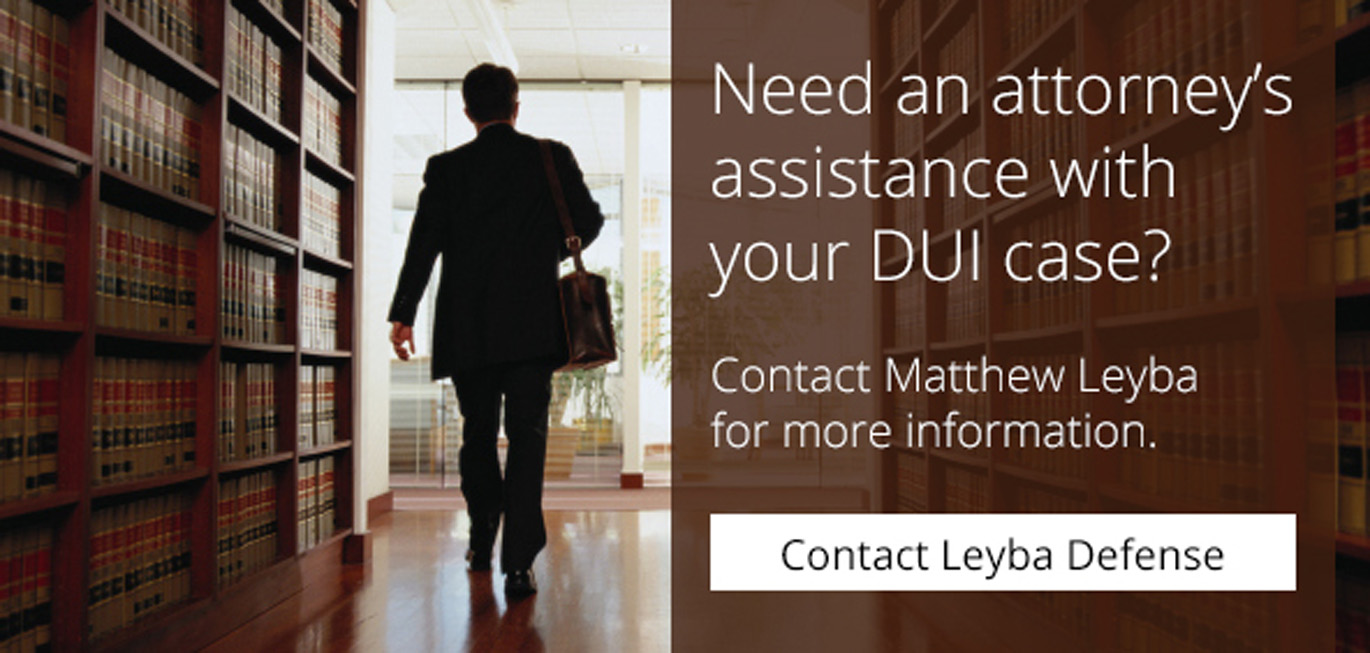 What is a good resolution when facing a Minor DUI charge
A minor DUI charge, unlike a regular DUI has more options when it comes to favorable plea deals.  Here are some plea deals Leyba Defense PLLC has been able to negotiate in the past with Minor DUI cases.
Deferred sentence:  This is a very good outcome on a Minor DUI case.  Under this scenario, a defendant would plead guilty to the Minor DUI charge.  However, instead of getting sentenced right then and there, the sentencing would be continued.  The duration of the continuance is something that gets negotiated with the Prosecutor.  If during that time the defendant complies with certain conditions, which is also something that gets negotiated with the Prosecutor.  At the end of the time frame, the defendant comes back before the Judge and the Minor DUI will get dismissed.
Stipulated order of continuance:  This is also an excellent outcome on a Minor DUI.  This works the same was as a deferred sentence.  In the sense the case would be continued for a period of time and if the defendant complies with the conditions of the agreement the charge would get dismissed.  However, this is different with the deferred sentence in two ways.  First, there is no initial guilty plea.  Secondly, this is a contract between the defendant the Prosecutor.  Meaning a Judge cannot change the conditions, unlike in a deferred sentence where a Judge can change parts of that plea deal.
Amendment to Negligent Driving 1:  This is not a good deal in my opinion for a couple of reasons.  First, a Minor DUI and a Negligent DUI carry the same max penalties and fine.  So essentially it is the same level of criminal offense.  Additionally Negligent Driving can deny someone entry into Canada, whereas a Minor DUI might not.  However, if someone is concerned about having the term "DUI" on their record for professional or job-related reasons, then a Negligent Driving 1 would solve that.
SCHEDULE A FREE CONSULT WITH
LEYBA DEFENSE PLLC TODAY.
Schedule a consult with our Seattle DWI attorney via email or call (206) 953-2145 to speak with an experienced Seattle Criminal & DWI lawyer and schedule a free 60-minute confidential consultation that is completely confidential. Our main office is located in downtown Seattle at the corner of 7th & Olive. We also have offices located in both Bothell and Bellevue and can meet you at either location.
A Seattle Criminal DWI Lawyer cannot make any sort of guarantees or promises regarding the outcome of a case, however, Leyba Defense PLLC guarantees we will not rest until you receive an outcome that is to your satisfaction and in your best interest.